The recent drop in the value of cryptocurrencies makes many investors focus on buying physical gold as a better form of investment. Digital currencies were considered last year as one of the star options for retail investors. However, they have suffered a spectacular crash in recent months, and their high volatility makes physical gold more attractive.
For European banks, these types of crypto assets have no value, they do not have an underlying that acts as a security anchor. Many investors do not understand how it works or the impact that such an investment can have on their pockets.
Cryptocurrencies in crisis
As we said previously, cryptocurrencies were one of the most in-demand investment assets throughout 2021. In recent months, investors have experienced first-hand the extreme volatility they have experienced, due to such important aspects as the lack of liquidity offered by central banks, the war between Russia and Ukraine, and the economic crisis, among others. In this way, in the face of inflation that does not stop growing, the rise in interest rates, or war scenarios, investors leave this highly volatile market and look for haven values ​​such as gold.
What happened to cryptocurrencies? To understand why gold once again becomes a haven asset to focus on, we must know some facts about what has happened with the cryptocurrency market:
Bitcoin suffered a drop below $26,000 in May. In November 2021, one Bitcoin was worth $67,000. That is, its value plummeted by more than 50% from its all-time highs.
The cryptocurrencies that lie in the shadow of Bitcoin have plunged more than 80% from their all-time highs. Luna (from Terra), for example, lost more than 70% of its value, reaching a price of almost $0.
Ether, the digital currency of Ethereum, has also plummeted by more than 50% in 2022, and the figure increases notably if we talk from its all-time highs.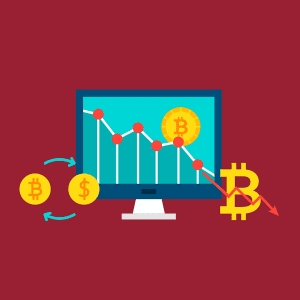 According to a study conducted by Hall Partners globally, 32% of users believe that investing in cryptocurrencies is a high risk, with the possibility of high liability, or as "a purely speculative bet." Only 6% believe that they are a safe investment.
Why bet on investing in physical gold
When it comes to physical gold, the vision that investors have is very different, since they recognize its capacity as a refuge asset, as well as a protective element against the rise in inflation.
According to the aforementioned report, last year more investors trusted the yellow precious metal (44% did so during the first 10 months of 2021 and bet mainly on bars and coins). What other data should we take into account?
In 2021 the investment in physical gold reached the highest figure in the last 8 years.
Gold is one of the investment assets that has appreciated the most since the beginning of 2021.
Of the investors who bought cryptocurrency last year, more than half also bought physical gold.
In a framework without regulation, it is difficult for the cryptocurrency market to stabilize and stop being so volatile. In the context in which we find ourselves, with a digital battle in the middle, a lot of economic uncertainty, and skyrocketing inflation, it is not surprising that many investors are playing it safe and setting their sights on a classic refuge asset such as gold.